MAAT HYDRO
The Quickest Access to Professional Hydrostatic !
MAAT Hydro is a solid based hydrostatic solver appreciated by most classification societies, combining real time analysis and highest level calculation utilities. Thanks to its newest technology and its highly visual user interface, MAAT Hydro makes hydrostatic calculations more accurate and intuitive than ever and allows marinizing your favourite 3D modeller in a few clicks !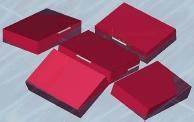 Nov 29, 2014
MAAT Hydro Rev. 7.10 can now be downloaded !
The MAAT Hydro Rev. 7.10 'New Axial Hinge' new function allows modelling articulated floats, therefore bringing a solution to the multi-body stability problem.
Moreover, a new '/Mass/Hinge Reactions' function has also been implemented in order to allow recovering the current hinge reactions directly for the longitudina strength calculations.
At last, new STC mnemonics have also been added to allow controlling the hinge data via STC scripts, as well as a new 'AddList' command, allowing to append as many data lists as necessary to the transverse stability diagram.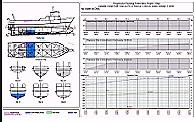 Jun 17, 2014
MAAT Hydro Rev. 7.9 can now be downloaded on its Installation Page !
MAAT Hydro's new 'Opening' objects have now joined the recent 'Pipe' objects to allow analyzing the progressive damage extension according to time as well as its incidence on ship's stability.
Subdivision / damage plans, can now be customized like the recently implemented capacity plans,
A new 'Quick Damage Setting' function has been implemented in the 3D browser for making basic damage definition easier and faster.
A new '/Tools/Check Model' function now allows detecting model's most common errors automatically.
Lines can now be directly imported from DXF files (silhouettes, etc).
A CSV export of the 'Float Analysis', 'Max KG', 'Longitudinal Strength', 'Floodable Length' results has been implemented.
The 2D reports are now automaically compressed in order to keep project's file as small as possible and a new global 'Print' function has bee implemented in the 2D browser to make heavy printouts easier.
Tank's damages are now clearly distinguished from compartment damages and their management has been simplified (easy and direct setting in [Data] tab's 'Quantity' column, new damaged tank icon, ...).
At last, in order to avoid any confusion, MAAT Hydro's 'Loading Conditions' now restore the ship to its intact state before setting tank's content and filling, so that 'Damage Conditions' now clearly appear as complementary.