MAAT HYDRO
The Quickest Access to Professional Hydrostatic !
MAAT Hydro is a solid based hydrostatic solver appreciated by most classification societies, combining real time analysis and highest level calculation utilities. Thanks to its newest technology and its highly visual user interface, MAAT Hydro makes hydrostatic calculations more accurate and intuitive than ever and allows marinizing your favourite 3D modeller in a few clicks !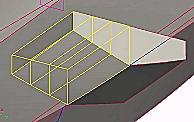 Mar 17, 2014
MAAT Hydro Rev. 7.8 can now be downloaded on its Installation Page !
MAAT Hydro's new ability to model tank's baffles now allows taking the corresponding FSM gains into account in the stability analysis, in order to allow making the most of it whenever necessary.
Moreover, a new 'Tank's Filling Complement' function has also been added in the 'Mass' submenu, in order to allow immediately combining tank's full load with the current free surface effect, as requested by certain regulations and Classification Societies.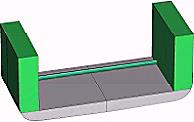 Feb 26, 2014
MAAT Hydro Rev. 7.7 can now be downloaded !
MAAT Hydro's new 'Cross Flooding Pipe' object now allows describing ship's space connexions, providing an accurate way to process the effect of progressive floodings on ship's probabilistic stability as well as primary damage's extension analysis (coming soon...).
Moreover, a new global 'MS Word Export' function has also been implemented, in order to allow transferring copious 2D results directly, as well as a new global export to MS Excel, thanks to 2D browser's new 'CSV Export' function.
At last, a new '/Curve/Planar Section' has also been implemented in order to allow including ship sections directly in the model.