MAAT HYDRO
The Quickest Access to Professional Hydrostatic !
MAAT Hydro is a solid based hydrostatic solver appreciated by most classification societies, combining real time analysis and highest level calculation utilities. Thanks to its newest technology and its highly visual user interface, MAAT Hydro makes hydrostatic calculations more accurate and intuitive than ever and allows marinizing your favourite 3D modeller in a few clicks !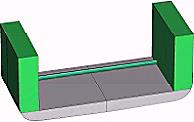 Feb 26, 2014
MAAT Hydro Rev. 7.7 can now be downloaded !
MAAT Hydro's new 'Cross Flooding Pipe' object now allows describing ship's space connexions, providing an accurate way to process the effect of progressive floodings on ship's probabilistic stability as well as primary damage's extension analysis (coming soon...).
Moreover, a new global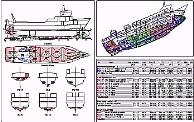 Nov 29, 2013
MAAT Hydro Rev. 7.6 can now be downloaded on the 'Installation' page !
MAAT Hydro now allows defining highly customizable capacity plans and presentation reports (including imported DXF drawings if necessary) in order to complete the Ship Status reports and make the most complex configurations easier to understand.
Simultaneously, the 'Tank Calibration' function has also been implemented, now including an overall tank presentation report and a highly customizable capacity