MAAT HYDRO
The Quickest Access to Professional Hydrostatic !
MAAT Hydro is a solid based hydrostatic solver appreciated by most classification societies, combining real time analysis and highest level calculation utilities. Thanks to its newest technology and its highly visual user interface, MAAT Hydro makes hydrostatic calculations more accurate and intuitive than ever and allows marinizing your favourite 3D modeller in a few clicks !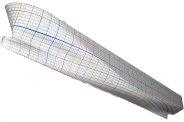 Jun 21, 2019
MAAT Hydro Rev. 9.0 is now available on its installation page !
After several years of maturing, a first version of MAAT Hydro's new generation hull modeler has been implemented, allowing to quickly model a ship from traditional paper plans as well as imported lines and / or surfaces.
This important update allows getting accurate and extremely compact ship models in a few hours for exceptional response times.
At the same time, the hydrostatic solver has also been implemented, now allowing to fix or maximize the free surface effect (FSM) of any tank for any filling when requested, as well as chaining portside and starboard stability calculations automatically if necessary.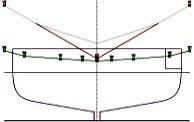 Oct 30, 2016
MAAT Hydro Rev. 8.0 can now be downloaded on its installation page !
MAAT Hydro Rev. 8.0 introduces new calculation tools in menu's 'Tools' tab (V-Lines, Tonnage, List Lines, List Loadings,- List Damages, ...) and a new 'Full + Max FSM' tank filling option allowing to combine directly tank's full load with a maximum FSM correction.
Moreover, the automated stability caculation provided by the [Retain Comb. Cases] button now generates a synthetic compliance table allowing to identify the problemeatic load / damage combinations immediately.
At last, the charateristics of the masses currently selected in the 3D browser are now also displayed in the 3D viewports.
Simultaneously, after having implemented a new line modeler, the integration of MAAT Hydro's new generation hull modeller is underway and the first tests might start in 2017.